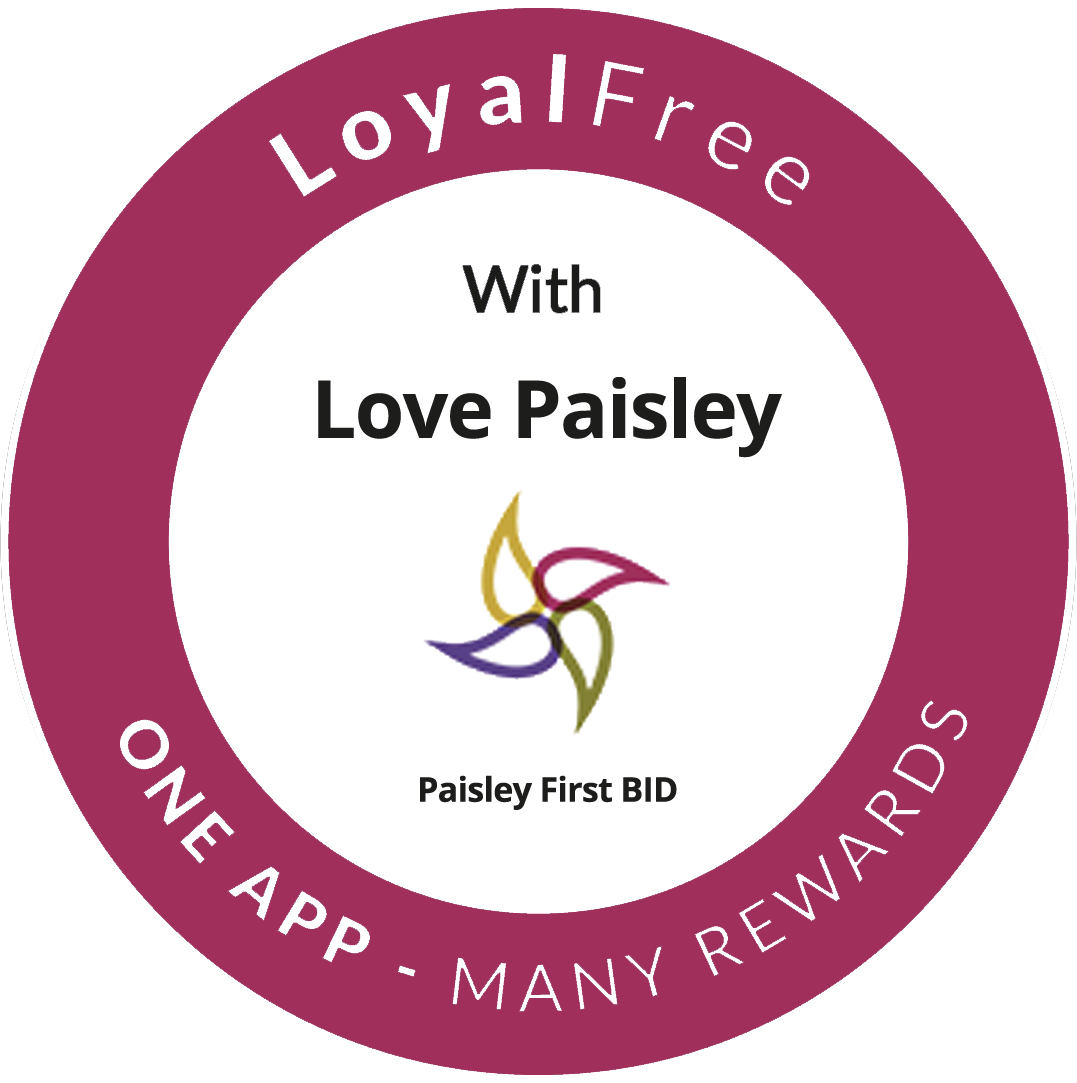 LoyalFree launch partnership with Paisley First Business Improvement District
LoyalFree – the digital app for towns and cities – launched in Paisley in April 2018, funded by the Paisley First Business Improvement District (BID). There are already more than 80 local businesses offering deals and promotions on the app which have been viewed over 4,000 times and claimed over 400 times in just 2 months.
Paisley First works for and on behalf of Paisley businesses to help create a better business environment, a more attractive town centre for residents and visitors and a safe place to work and live.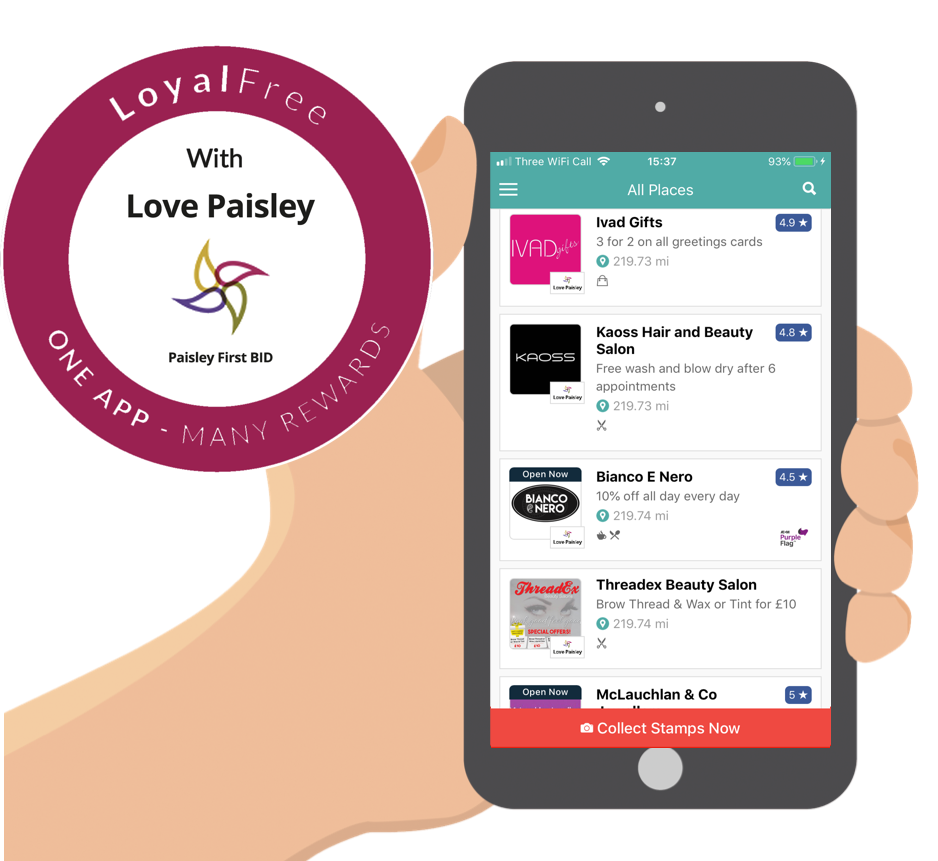 The new partnership means BID levy paying businesses will gain from advertising in the local area, customer insights and social media support. A local guide will also help visitors with vital tourism information, while an events section will showcase activities in the town. Businesses already on board in Paisley can be viewed by clicking here: www.paisleyfirst.com/offers
Natalie McShane, BID Manager, commented: 'This partnership gives Paisley First the opportunity to increase footfall and encourage visitors to shop local. The app gives businesses an all-in-one digital platform to advertise themselves to locals and tourists alike. The set up process is incredibly slick and the LoyalFree team are always willing to help'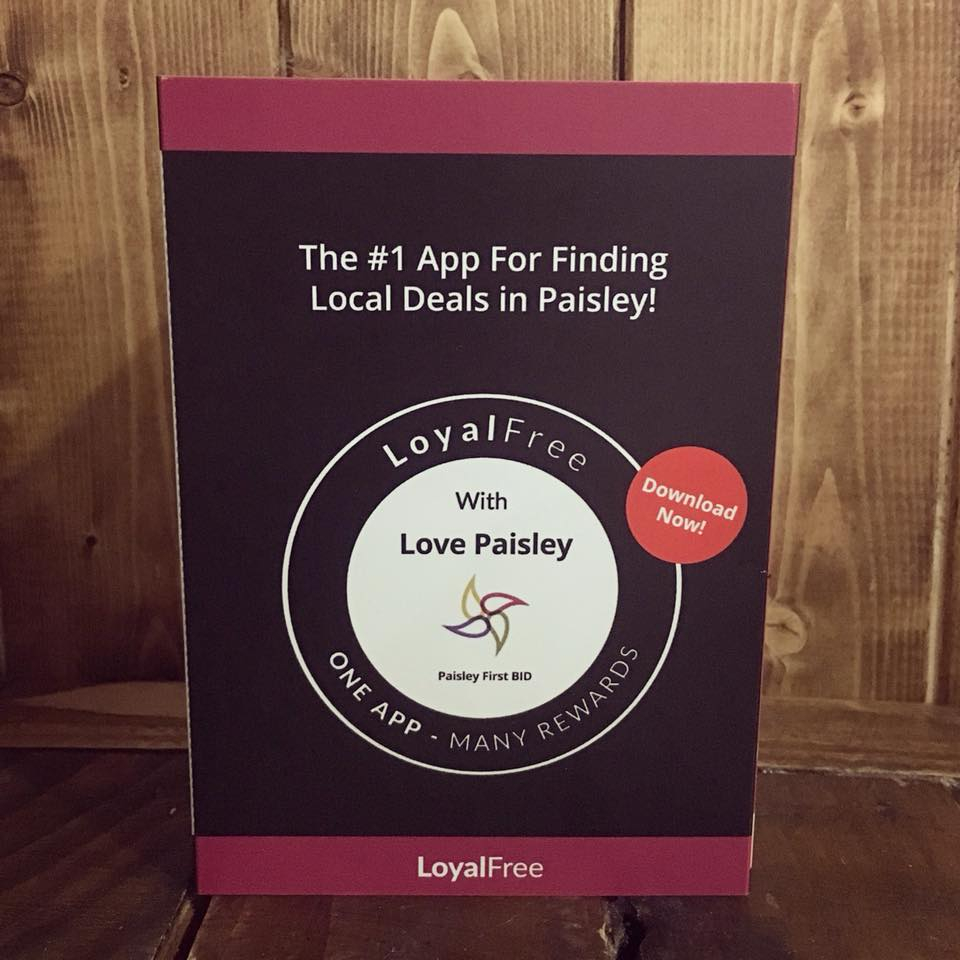 If you're a BID levy payer in Paisley please email [email protected] for details of how you can get involved in the scheme.
If you're a resident of, or visitor to, the town then click here to download the app for free and start saving money at local businesses: www.loyalfree.co.uk/download
100% Money Back Guarantee!
If you're not completely satisfied with the service after 1 year, then you'll get all of your money back – Zero Risk!
Take a 60 Second Virtual Tour of the Incredibly Simple LoyalFree App
What Do the Businesses Say?
57% of consumers want to engage with their loyalty programs via mobile devices
(CMO, Adobe, 2017)
We have definitely seen a marked increase in sales across the store since being on the LoyalFree app . In addition being able to check analytics is an added bonus , helping us to create an updated target market for our business!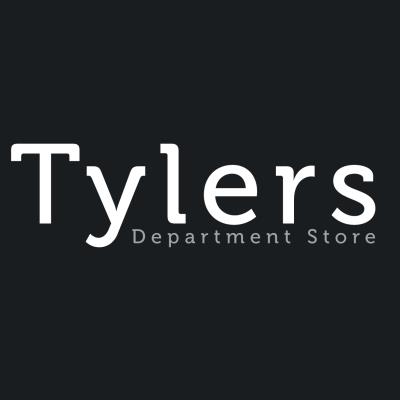 Helen Tyler, Owner
Tylers Department Store & Cafe
The LoyalFree app is an incredibly cost effective way to advertise to new customers in the local area! We love the community it builds amongst independent businesses which helps us all!
Sheree, Owner
The Beauty Box, Leicester
We had a customer that was going to purchase 2 minikegs, but ended up buying 5 just so they could get their free one using the LoyalFree offer!
Erika Hardy, Head of Marketing
Everards Brewery
Ruth Skinner from Smörgås Sandwich Bar in Leicester is loving being on LoyalFree. Click 'Play' below to see why!
See why Tobi, and The Royal Oak Pub, has loved being on the LoyalFree app
Request a demo now
Simply enter your details in the box below and we'll get in touch to come meet you
Who Created LoyalFree?
Sophie and Jason, town marketing experts!
We have a wealth of work experience, as pictured below, across a multitude of sectors
We are the sole owners of and directors of LoyalFree Ltd
We have taken no investment, thus have no external influencers and are the only decision makers
We love meeting enthusiastic managers to discuss improving towns
We encompass a variety of skills covering the entire spectrum of Digital Marketing and Technology

How Many People Are Using LoyalFree?
Awards